National Speleological Society

AMERICAN SPELEAN HISTORY
ASSOCIATION

The American Spelean History Association (ASHA) is an internal organization of the National Speleological Society that is devoted to the study, interpretation, and dissemination of information about spelean history, which includes folklore, legends, and historical facts about caves throughout the world and the people who are associated with them, their thoughts, philosophies, difficulties, tragedies, and triumphs.
Membership
: Membership in the Association is open to anyone who is interested in the history of man's use of caves. Membership in the National Speleological Society is not required. Click
here
for a membership application. (If the application doesn't print correctly, a
PDF version
of the application is also available).
Journal of Spelean History
(ISSN 0022-4693): This is the Association's publication and is mailed to all members. It is nominally published on a semi-annual basis, but if insufficient material is available for an issue, the publication schedule may not be met. The
Journal
includes articles covering a wide variety of topics relating to man's use of caves, including historical cave exploration and use, saltpeter and other mineral extraction, show cave development and history, and other related topics. It is the primary medium for conveying information and ideas within the caving history community. All members are strongly encouraged to contribute material and to comment on published material. Items for publication should be submitted to the Editor.
Cumulative

Journal of Spelean History

Index and List of Issues Published
:
There is a
cumulative index
to the issues in searchable HTML format and a printable version of the
cumulative index in PDF format
.


Free Back Issues
: The
Journal of Spelean History
started publication in 1968 and copies of all back issues greater than five years old are available as PDF files that can be downloaded at no cost. Click here to go to the page containing links to the issues that can be downloaded.
Dues
: Dues (or subscriptions) are $2.00 per
Journal of Spelean History
issue mailed to U.S. addresses. Checks should be made payable to "ASHA" and sent to the Treasurer. Sorry, we cannot accept credit cards.
NSS Convention Session
: ASHA sponsors the Spelean History session at the annual National Speleological Society Convention, at which presentations are made on a variety of topics of interest to the cave historian. Anyone is welcome (and encouraged) to do a presentation at the session. Contact the President or see the
Call for Presentations
for more information
. Note: There was no physical NSS convention in 2020 or 2021 so there were no History Sessions.




NSS Convention Session Abstracts

: Abstracts of many Spelean History presentations made at NSS Conventions are available in a searchable PDF file here (94 pages, 530 Kbytes). After downloading, the file can be searched with most PDF viewer programs.


Annual Association Meeting
: The Association holds its only formal meeting each year at the NSS Convention. All Association business, including election of officers, is done at that meeting.
Note: There was no NSS convention in 2020 so there was no Annual Meeting.


Printed Back Issues

: Paper copies of all back issues of the

Journal of Spelean History

are available, although many of the early issues are reprints. Order back issues from the Treasurer. The cost (U.S. postage included) is:
$2.50 for a single copy
$2.00 per copy for 2-3 copies
$1.50 per copy for 4-7 copies
$1.00 per copy for 8 or more copies
Foreign Members
: ASHA Welcomes members from foreign countries. The rate for all foreign members is US$5.00 per
Journal of Spelean History
issue for printed copies, or $2.00 per issue for electronic (PDF) copies sent as email attachments. We regret that all checks must be payable in US$ and drawn on a U.S. bank. Send cash at your own risk.



The Peter M. Hauer Spelean History Award

: This Award is presented annual to an individual for outstanding work in the field of cave history.
Click here
for more information and a list of recipients.


Special Interest Material



The Max Kaemper Connection

: This is a 75-minute video about the history of the 1908 map of Mammoth Cave done by German engineer Max Kaemper. The video discusses the history of this amazingly accurate early cave map and the story of the man who created it. The video can viewed on YouTube at https://www.youtube.com/watch?v=GGRjijNdNWA. The video was made by Bernd Kliebhan, a descendent of Max Kaemper.

Mammoth Cave photographers:

Bob Thompson has produced a book titled

Early Photography at Mammoth Cave

. Click here to download a low resolution PDF copy of the book at no cost.



Cave Post Offices in various states: Thomas Lera has produced a series of ASHA Special Publications documenting the history of existing and discontinued post offices in several states. The PDF versions of the publications can be downloaded at no cost (click the title to download the PDF file):
Cave Post Offices of Virginia and West Virginia (Revised April 2018, 76 pages, 21 Mbytes)


Cave Post Offices in Georgia, North Carolina, and South Carolina

(Revised May 2018, 27 pages, 4 Mbytes)


Cave Post Offices in Maryland, Massachusetts, New York, and Pennsylvania

(April 2018, 31 pages, 5 Mbytes)


Cave Post Offices in Alabama, Arkansas, and Florida

(May 2018, 19 pages, 2 Mbytes)
Cave Post Offices in Illinois, Indiana, and Ohio

(May, 2018, 23 pages, 3 Mbytes)


List of Saltpeter Caves

: Many U.S. caves were used a source of saltpeter (an ingredient in gunpowder) until after the Civil War. Doug Plemons has produced a comprehensive list of these caves and the latest (2006) edition of his list is available here as a PDF file (75 Kbytes).



History of Pendleton County (W. Va.) Caves

: This is a chapter from

The Caves and Karst of Pendleton County

, by George Dasher. The chapter was written by John C. Taylor and describes the history of some of the County's famous saltpeter caves. Click here for more information and to download a PDF version of the chapter (206 Kbytes).





ASHA Administrative Documents

:
Articles of Incorporation
Bylaws
Early History of the Association (through 1993)

For more information about the Association
: Send e-mail to
asha@caves.org
if you have any questions about the Association or cave history.
Current ASHA Officers
:
President

Dean Snyder

3213 Fairland Dr., Schnecksville, PA 18078
Vice-President
Carolyn Cronk

7415 Swan Rd, Colorado Springs, CO 80908

Secretary-Treasurer
Robert Hoke

6304 Kaybro St., Laurel, MD 20707 (301)725-5877 bob@rhoke.net


JSH

Editor

Greg Brick

1001 Front Ave., Saint Paul, MN 55103 bric0004 "@" umn.edu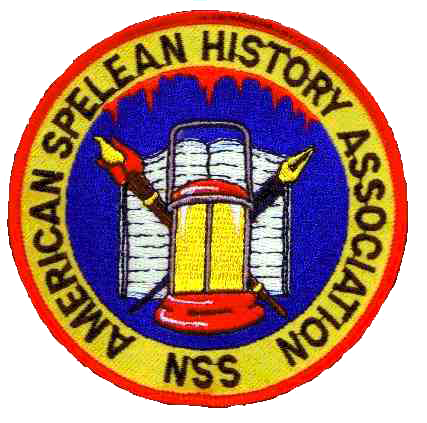 ASHA patch. This 4" cloth patch is available for $4.00 and is free to new members who join for at least 8 issues ($16.00). Send orders to the Treasurer.
Useful links:
www.caves.org
is the National Speleological Society, the national organization of cavers.
drgregbrick.com
Greg Brick, Editor of the
JSH
, has an evolving Web site that includes information about caves and cave history in the upper Midwest.
www.cavern.com
is the National Caves Association, a trade group that includes most of the commercial caves in the United States.
https://frontierfolk.net/bgg/floyd-c.html
is a Web page maintained by Jon Hagee and dedicated to Floyd Collins, the cave explorer who died in Sand Cave (Kentucky) in 1925 after being trapped for several days.
www.caves.org/member/mfraley/
This Web site, titled
The Carbide Caver
, contains lots of useful information about the operation, history, and maintenance of carbide lamps. The site belongs to Mike Fraley.

(this page last updated or validated on Decembeer 15, 2021)